Introduced in 2007, Nautel's Advanced User Interface (AUI) provides local and remote monitoring and control for NV, GV, NX, NVLT, and VS transmitters.
Nautel's engineering team is in the advanced stages of replacing the legacy (Flash) AUI with the HTML5 version. The new version not only takes advantage of the latest browser capabilities and smaller size, but it works across desktop, tablet, and smartphone browsers. The new AUI, like the original, runs right from your transmitter, so there is nothing to install or maintain on your remote devices. This major software release will be provided for free.
See below for update on NEW Legacy AUI Access App v1.02, released 23rd Oct 2020
HTML5 AUI
Using the most recent developments in HTML5 we are able to both retain the rich graphics of the original AUI and extend it in ways that were never possible in Flash. AUI will be much smaller so it starts faster and work better on limited bandwidth connections.




The new Dashboard icons provide a cleaner interface and "hovertips" explain what they are as you get to know them.









Diving into the user interface a bit deeper, here is the Presets page. Everything is usable even when operated on smaller touchscreen devices like a phone.





The upcoming development stage is beta testing for each transmitter series. If you are interested in being part of the test, and have a transmitter you can spare to do the testing on, sign up here: BETA SIGN-UP PAGE
Also check out this recent article about the AUI in Radio Guide.

---
Nautel Legacy AUI Access App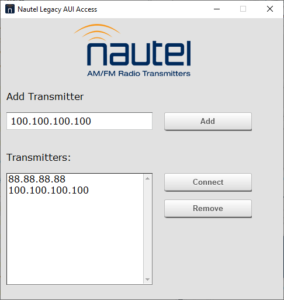 Nautel is pleased to announce the immediate availability of its stand-alone Windows and macOS desktop app, enabling direct access to your legacy AUI without a browser. The app also lets you can choose when you want to migrate to the new AUI once it is released. Remove Adobe Flash Player from your computer today!
New release: v1.02: zero install: extract and run.
MORE INFO & DOWNLOAD


Linux: User tests indicate that the AUI App seems to run under Wine. However, as this may require distro-specific adjustments to run (such as font installation), this use is not supported, so please no support calls.
---
Flash Watch: Browser Support
We strongly encourage customers switch to the new Legacy AUI Access App now, as it is the recommended way to connect to your transmitter's AUI. The app requires transmitter software released in February 2016 or later, as these releases include updates required by changes in Adobe's Flash technology.
All major browsers will support Flash Player until January 1st 2021. In the meanwhile here is what to expect from each:
Google Chrome
Warning shown when browser is launched (If you have previously blocked Flash, go to Settings | Privacy & Security | Site Settings and change the Flash settings.

Detailed Steps

.)
Prompt to allow Flash to run
Flash is supported until end of 2020
Microsoft Edge
Microsoft's latest Windows update has changed the rules a bit: first it removes Flash Player automatically, so no browsers that require the Adobe installation can run Flash; second, Microsoft Edge has Flash built-in which means that after the latest Windows update is installed, the only browser that can run Flash is Edge.
The new Edge (2020) is built on Chromium (same as Google Chrome)
Dialog prompts to allow Flash to run
You are prompted to install Flash plugin – complete that process to run AUI
Flash is supported until the end of 2020.
Apple Safari
Flash Player not supported
Mozilla Firefox
Microsoft Internet Explorer
Flash supported until the end of 2020 (unless prevented by Windows update)
Touch Screen AUI on Transmitters
The touch screen AUI on the NV, GV, and NX Series transmitters will continue to operate unchanged. When you upgrade to the HTML5 AUI, the touch screen interface will also be upgraded.
Smartphone Browsers
Some smartphones and tablets can be configured for running Flash using special browsers, but it has become harder with vendors such as Apple and Samsung work hard to prevent it.
The AUI running in the Photon browser: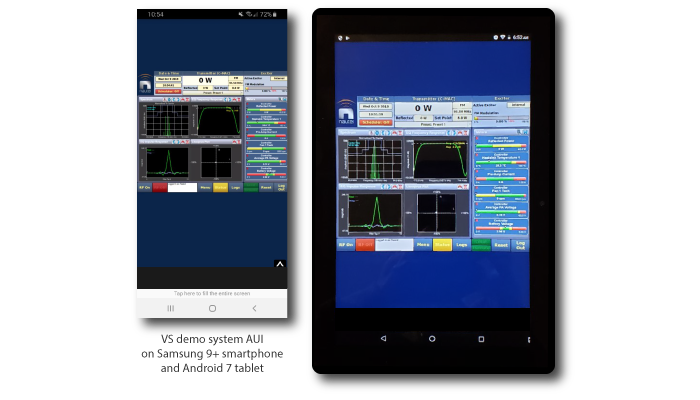 ---
AUI Connectivity & Security
The AUI is a monolithic Flash app that is about 9 MB in size, so for low bandwidth connections this may take some time to download to your computer (Enough time to go make coffee as one engineer at NAB told us!). The good news is that once downloaded the only flow through the connection is real-time data from your transmitter. The following tips focus on transmitter connectivity and security.
Firewall: Protect your transmitter site network with a firewall, with incoming ports closed. The speed at which devices on an unprotected network connected to the Internet can be infected by viruses or automated hack attempts is breathtakingly fast.
VPN: The most secure way to connect remotely to your transmitter is via a VPN. Virtual Private Networks create an encrypted channel from your remote computer to your transmitter. It requires that a VPN client is installed at the site, typically on a site-based computer. VPN support is common these days, but involving an IT professional will save time and headaches.
Port Forwarding: While closing your incoming ports on your firewall is a standard security practice, opening specific outbound port(s) will enable you to access your transmitter without a VPN. It requires configuring the firewall router at your site, which gets trickier with multiple transmitters. As with VPN, involving an experienced IT person will save time and headaches if you aren't familiar with this technology.
Host Watch Dog: If you have ever lost AUI or SNMP connectivity to your transmitter, it is possible your Host Watch Dog setting is incorrect: set it to "ON". The Host Watch Dog monitors the internal transmitter systems and does a reset when necessary.
Passwords: CHANGE THE DEFAULT PASSWORDS FOR AUI LOGIN AND SNMP WRITE. Disable SNMP if you do not use it.
Additional Resources