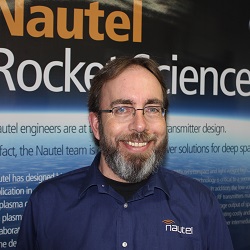 This article represents the NAB2015 wrap up episode – give me another week and I may even be recovered!
As many know, NAB starts well before the show floor opens for many of us. For me, the beginning was the Thursday prior to the actual show, with the Association of Public Radio Engineers' Public Radio Engineers Conference (PREC), where I was lucky enough to be able to present two papers, one on Safety and one on LTE Interference (the LTE interference presentation was based on my article in the Waves from last November.
After the PREC, we have the Nautel Users' Group session (NUG@NAB) the Sunday before the show – this year was something like the 20th consecutive year we've done this and it's grown from a small gathering where Nautel employees almost outnumbered customers and other guests, to the point where we had nearly 350 folks in the room this year! That makes for an interesting and lively session, for sure! All NUG presentations

The rest is standard NAB; show floor busy time, evenings with customers and friends (sometimes, the two are the same!) and a day of frantically putting all of the shiny stuff back in to the big wooden boxes. Rush home, and spend a few days entertaining more friends with our post-NAB training session, then I'm ready for a rest – and I'm certainly not the busiest person in the company during all of these events!
All that aside, I wanted to discuss some of the points that came up during my Safety presentation at the PREC. I've been doing variations of this safety presentation for a couple of years now, to groups small and large. As we see the slow decline of the quantity of broadcast engineers out there, it's something that's starting to become more of a potential issue, especially with younger folks, who might have a lot of IT skill, but not a lot of experience with higher voltages or RF. It's also a concern with some of the "less young" engineers, who are busier than they've ever been and working longer hours to keep the electrons flowing.
Here at Nautel, we've got many policies, some regarding workmanship standards, others for the usual company stuff and several geared toward safety – doing our best to make sure everybody gets to go home at the end of the day without any injuries… or worse. One of these policies is a "Lone Worker" policy, effectively outlining when it is safe, and when it is not safe, to work on anything without another person in the immediate area. Another is a procedure for observing safe working practices in our Engineering and Test facilities. Excerpts from this are as follows:

"The following equipment is designated as hazardous within the meaning of these safety procedures.
a) Transmitters with output power ratings exceeding 1kW.
2. Authorized personnel shall not work excessive overtime or in a state of fatigue, on equipment designated as hazardous.
4. Authorized personnel shall not work on equipment designated as hazardous unless another individual who has been trained in emergency power shut-off procedures, and first aid/CPR is on hand in the proximity of the equipment designated as hazardous."
The concerns I've got are multiple – we've got fewer people, working longer hours, with less training and resources than ever before. As a result, there are a lot of cases where somebody is working on a high power transmitter, or high voltage power supply, at the end of a long day when they're fatigued and not fully up to speed. Or, they're not familiar with the equipment and the different ways it can bite them. For these reasons, I really believe, that, similar to what we do here at the factory, stations need to have formal safety policies in place. Lacking that, engineering personnel, whether full time employees or contractual, need to also have personal safety policies, which should be communicated to the stations where they work.
First and foremost would be a variation of our lone worker policy – if you need to work on an AM phasor or ATU, or if you've got to open up the final cavity of an FM rig, or if you've got to work in the power supply of ANY transmitter, there should be somebody else on site. That somebody's training may be limited to how to shut off the AC power to the site (or at least the stuff you're working on) and how to call 9-1-1 (or appropriate emergency number), but not having somebody else around is a potential recipe for disaster. It's nice if the other person knows CPR, but even being able to kill the power and get assistance rolling is a good start. During my PREC presentation, one attendee mentioned, "what if you can't find anybody to go to the site with you?" It's a valid question – we live busy lives and site visits aren't always scheduled to everybody's convenience, as a rule, they tend to be needed at the LEAST convenient times! However, I'd counter that, if there is nobody at the station willing to volunteer to tag along to ensure your safety, then there definitely need to be some policy changes made.
Another thing related to safety is a short list of tools and PPE (Personal Protective Equipment) that should be in every transmitter site engineer's inventory. First among these are ESR (Electric Shock Resistant) rated footwear. ESR shoes are rated to not pass more than 1mA through the sole, when an 18kV voltage is placed across it. I know from first hand experience, that this can be the difference between a nasty burn and no adverse effects at all. They're easy to find – you can get them at Walmart, for example… the picture below shows just one example.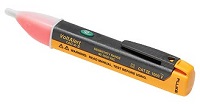 Another item that should be in everybody's took kit is a voltage detector pen, similar to this budget one from Fluke. They cost very little and are a fast way to tell if the AC voltage is present on the power supply you're about to dive into. Some will even work with RF voltages, but I'd caution you to verify yours against a known energized circuit, before simply assuming that it works!
Finally, from a PPE perspective, if you work at a facility that has an entrance bigger than 100kVA (for example, a 400A entrance at 240VAC, or a 200A entrance at 480V), your facility should have arc flash protective apparel, including coveralls, gloves and mask. Arc flash is typically only an issue for circuits switching more than 125kVA, but it's something that you don't get a second chance to experience, if you're not wearing the appropriate PPE.
Final word of caution – anybody who has ever been "bitten" will know this, but it is a lesson that doesn't usually register until the first time you forget it… measure EVERYTHING before you touch it – and ground it even if you are certain it isn't live!!!
That wraps it up for this issue – until next time, be safe and happy engineering!
Jeff
Jeff Welton, has worked with Nautel for 25+ years. He is currently the Nautel Sales Manager for U.S. Central Region but previously he spent 16.5 years as a Nautel Customer Service Technician.
Submissions for this Tips 'n Tricks column are encouraged and if published you'll receive a Nautel T-shirt. Submissions should be typed and emailed, with high resolution photos, to [email protected] using the subject line Tips 'n Tricks.