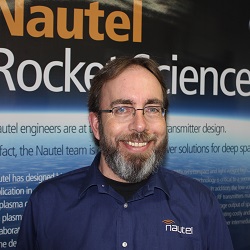 Last issue wrapped up with a note about portable grounding sticks. That, and some new additions to our Bangor facility (see below), geared to improve both production efficiency and worker efficiency, prompted this edition.
More and more, we've got stations with contract engineers handling repairs and maintenance, or stations with only one in-house engineer for a group or regional areas within a group. In house at Nautel, we've got "lone worker rules" specifying parts of the facility that require two personnel at all times, or even specific procedures that can not be performed by a lone worker without certain safety precautions, such as having a CPR trained employee in the room, or various personal protection arrangements in place. Many of these would apply to the average transmitter site as well.
To bring it closer to home, I'm sure most of us know, or have heard a story of, an engineer who was found "at the transmitter site". These days, with fewer people covering more sites and lower budgets, the challenge is getting even greater. However, there are some things we can do in the field to reduce the risks and having been to several hundred sites over the last couple of decades, I've picked up a few ideas…
The most obvious is, whenever possible, don't work alone. The other person on the site doesn't even need to be technical. They just need to know where the main breaker is located and how to dial 911. CPR training, as mentioned above, is also very helpful when seconds count – many places have it available to the general public, through organizations such as St. John Ambulance, The American Heart Association, and the like.
In some situations, having another person on site just isn't feasible. In those cases, at the very least, somebody should know where you are, what you plan to be doing and you should have pre-set check-in times. There are also some fairly cost-effective items of equipment that should be considered absolutely essential. These are important in all cases, but never more so than when you're on-site alone.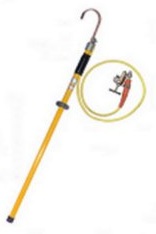 First and foremost, the grounding stick mentioned in my last article – whether you're working on a power supply or in the RF section of an AM site, everything you're about to touch needs to be at ground potential.
A grounding stick is one of the fastest ways to prove that what you're about to grab won't bite you. In a pinch, a battery booster cable and a non-conductive (wooden, preferably) broom handle, along with a bit of duct tape, can fashion a poor man's grounding stick in a few seconds.
Next, safety footwear. If you walk in to a transmitter site on a regular basis, these NEED to be part of your wardrobe. Properly designed ESR (Electric Shock Resistant) footwear can be had for less than $50.00 at Walmart and can not only save your life, but can save you from some nasty burns.

An anecdotal example… about 10 years ago, I was doing a navigational beacon installation on an oil rig. There was some scaffolding up for painting that was going on just outside the beacon antenna area. Nav beacons use very short antennas – in this case, a 75 foot whip. The scaffolding was almost half the antenna height and (as we discovered later) insulated from the rig by several layers of paint on the rig decking. I was leaning against the scaffold talking to one of the rig techs when he placed his hand on the scaffolding as well… and almost immediately jerked it back with a pretty significant RF burn.
I didn't notice a thing. The only difference was our footwear – I was wearing my $39.95 Walmart ESR work shoes, he was wearing a pair of tennis shoes. These shoes are constructed so as not to pass more than 1 mA of current when connected between 18 kV and ground.
Note: ESR work shoes should be tested or replaced every year or two… and they don't work nearly as well if they're wet! Look for the ESR symbol (an orange Ohm sign in North America, may differ in other parts of the world).
One final item that should be included in every engineer's pocket protector is this little gem, right here: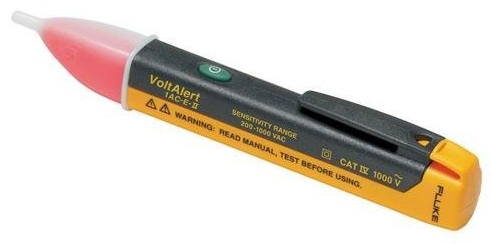 It's a non-contact voltage alert device. This one is made by Fluke, but there are several other manufacturers, including Greenlee and Milwaukee Tools. They can be had for less than $30.00 and will let you know right away if the power supply you are about to reach into is still energized or not.
Last note – this is something that doesn't happen often, but when it does, it can be extreme. Everybody should go to Google and search "Arc-Flash", then look at the images tab.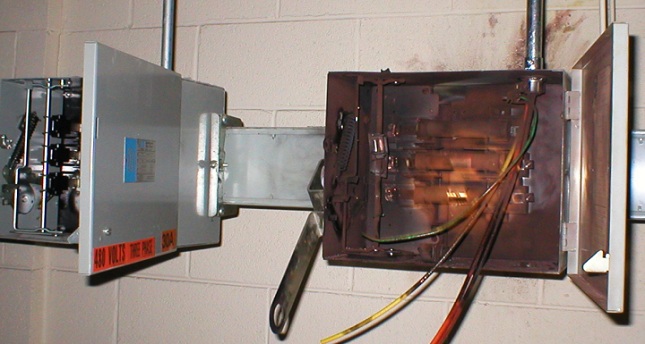 A quick glance illustrates why all the old engineers will tell you to stand to the side when you're activating a circuit breaker. It also illustrates why you should have a pair of heavy rubber gloves and long-sleeved, non-flammable clothing on when switching an electrical disconnect or circuit breaker, not just the first time, but every time.
Arc-Flash education is well beyond the scope of this article, but anybody who ever has to energize a circuit breaker should be familiar with the term and the fact that it doesn't just apply to multiple kilovolt equipment, but also to the higher power 240-600V systems that many sites have out at the transmitter site. It's more common as the power involved in the system increases, but keep in mind that a 240V, 500A entrance enough potential to create an arc-flash. This covers a lot of higher power FMs and many of the 50 kW AM sites out there.
As Sergeant Esterhaus used to say in every episode of Hill Street Blues, "Let's be careful out there". I'll see you in the next issue, or at NAB (hard to believe it's only two months away!).
Submissions for the Tips 'n Tricks column are encouraged and if published you'll receive a Nautel T-shirt. Submissions should be typed and emailed, with high resolution photos, to [email protected].
---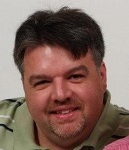 Importance of Safety at Nautel, by Charles Drillen

Charles Drillen, Plant Manager at Nautel Inc. in Bangor, Maine, explains some of the safety reasons behind Nautel's investment of around half a million dollars in new production equipment at the facility.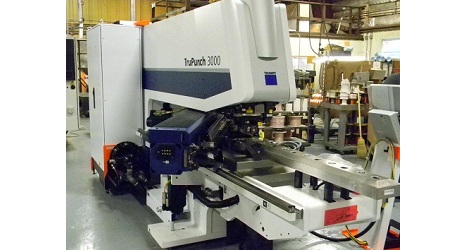 Improving employee safety and machine reliability were two of the reasons that triggered the purchase of a TRUMPF TRUPUNCH 3000 metal punch machine (left) and LVD PPEB press brake (below) at Nautel's facility in Bangor, Maine.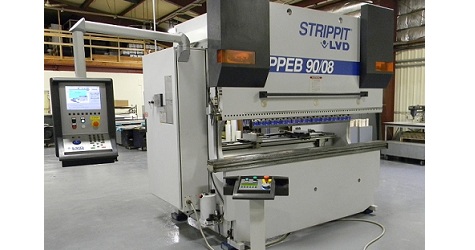 The investment was in the range of half a million dollars and replaced aging equipment for which it was increasingly difficult to find replacement parts. The new equipment was installed and operational in November, 2012. An official ribbon-cutting ceremony attended by Bangor's Mayor, Nelson Durgin, together with Nautel staff and owners was held on December 11, 2012.
The upgraded machinery improves employee safety in the following ways:
both of the new machines are equipped with light barriers
the TRUPUNCH 3000 metal punch machine provides for skeleton-free processing (working without scrap skeletons increases safety)
the LVD PPEB press brake features front sheet supports and CNC controlled sheet followers.
On a related note, Nautel Inc. was given the Richard J. Haine Memorial Award for Safety Excellence.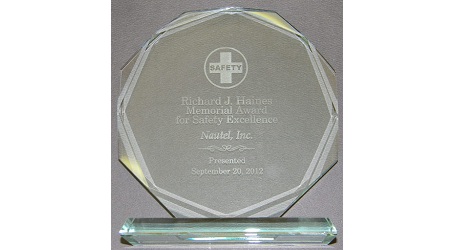 This award was presented on September 20, 2012 for the Bangor facility's continued commitment to safety and the well-being of its employees, and always looking for ways to improve its safety program.
We were honored to receive this recognition and know that we're implementing an award-winning safety program in Bangor!
Jeff
Jeff Welton, has worked with Nautel for 25+ years. He is currently the Nautel Sales Manager for U.S. Central Region but previously he spent 16.5 years as a Nautel Customer Service Technician.
Submissions for this Tips 'n Tricks column are encouraged and if published you'll receive a Nautel T-shirt. Submissions should be typed and emailed, with high resolution photos, to [email protected] using the subject line Tips 'n Tricks.