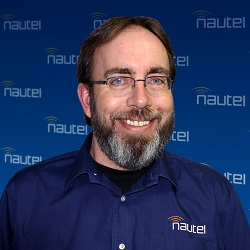 Can you believe it's less than a month until NAB? Where has the time gone? At some point I am hoping that spring will eventually rear its head in this part of the world – we are under a freezing rain warning as I write so I will be keeping an eye on the VSWR for our local community station's transmitter!
On the topic of keeping an eye on things, occasionally I will encounter a new item that seems too good to be true and must be checked out in person. One of these items is the FLIR ONE, thermal imaging camera attachment for Android or iOS smartphones.
Spotting Hot Spots
I had seen a photo on the "I Take Pictures of Transmitter Sites" Facebook page a few months ago, taken by Guy West, of Far East Broadcasting Company (FEBC). He had shown a circuit breaker photo, taken with his FLIR ONE, showing an obviously overheated connection point.
I decided that this was a tool that could greatly improve overall safety at any facility, especially at transmitter sites, where high current connections can frequently loosen and result in overheating. While I do not have statistical evidence at hand, it seems that a lot of stories regarding transmitter site or studio fires include the phrase "overheated breaker" or "started at an electrical outlet". As a matter of fact, there was a similar post recently about a station that called in the fire department due to a burning smell, which ended up being isolated to a light switch that had heated up and started to smoke.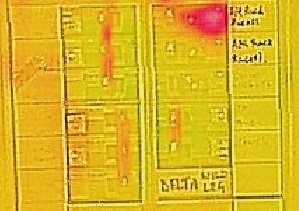 Based on that, I lobbied for and received a new FLIR ONE of my own and must say, I think it should be on the "must have" list for any engineering type. It provides a fast way to identify overheated areas in the facility, even behind electrical panel covers. In the photo we can see a hot spot on the input connection to a breaker mounted in an electrical panel. The connection is only slightly warm, however, given that it was a relatively low current load, it is definitely something that should be inspected more carefully.
In addition to the safety aspects of performing a periodic thermal imaging check of circuit breakers, outlets, switches and lighting fixtures in a facility, a thermal imaging camera can also be a useful troubleshooting tool, enabling an engineer to find hot spots in a circuit from a distance, while it is in operation.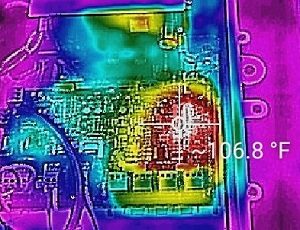 Depending on the specific camera, you can also display temperature, dynamically switch back and forth between thermal and visual cameras, to provide a better reference on the location of the hot spot, shoot video, or take panoramic images, allowing you to shoot the entire transmitter room in one photo. From a viewpoint of keeping the facility safe from electrical fire, this goes a long way toward providing an early warning system of any loose connections that could become potential hazards! Note that any thermal imaging device would do the job, some better than others – however, the one I'm working with for the photos shown here (including the one taken by Guy West) is the FLIR ONE – you can find more information on that particular camera here >
IP Safety
While we're on the topic of safety and security, I need to take a moment to urge all our readers to go through any and all IP-accessible equipment at their facilities and double check a couple of things: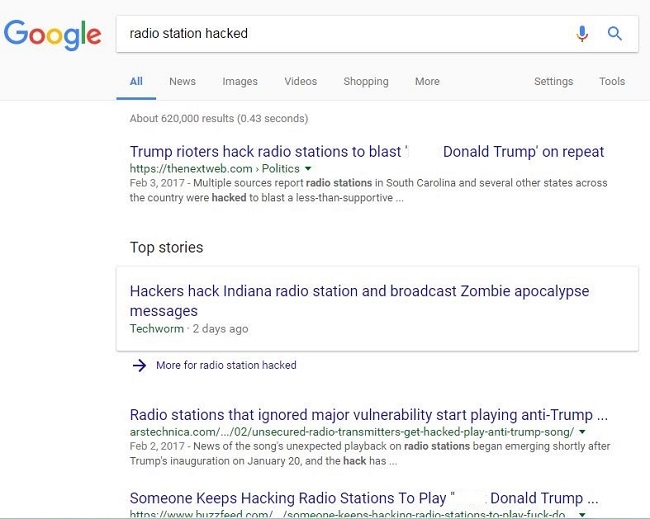 First, ensure that the factory default username and password are NOT accessible from the outside world. Whether this is done by deleting them after assigning a new username and password, or hiding them behind a VPN is irrelevant, but under no circumstances should a device that is visible to the world-wide web have a default username and password available. I will be doing a presentation for the NAB Broadcast Engineering and Information Technology Conference (BEITC) this year on safety and security, including IT.
In the process of researching for this presentation, I have found no less than 5,000 broadcast related devices visible on the internet. In several cases, despite multiple recent events where stations had their audio streams hijacked and objectionable content put on air, I was able to access audio codecs to the point of being able to replace the source for their audio stream. If I were the malicious sort, changing default username and password at that point, then replacing audio source, could have resulted in a huge inconvenience for these stations. In addition, I found over a dozen pieces of Nautel equipment visible on the internet, several of which I could log into using the default username and password, which are easily found by going to our users group and downloading the appropriate manual. This needs to be rectified, as it is rapidly becoming a serious problem!
Secondly, I would assert that any mission critical device should not be visible from the outside world with a simple search at all. If it is, even without a default user name and password, it is asking for somebody with too much time on their hands to take the time to see if it can be accessed. Either hiding it behind a third-party firewall, accessing it only through a local computer by means of TeamViewer or LogMeIn or equivalents, or only permitting access through a Virtual Private Network (VPN) ensures that it won't be found during a simple search, dramatically reducing the chances of it being hacked.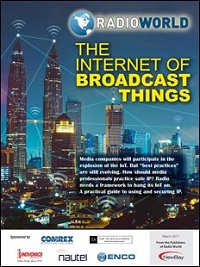 Recommended reading would be the Nautel-sponsored Radio World eBook called The Internet of Broadcast Things: A Practical Guide to Using and Securing IP… "How should media professionals practice safe IP? We wondered what kind of questions need to be asked as radio contemplates what could be called the growing Internet of Broadcast Things. What role do firewalls, virtual private networks, password policies etc. play? How can we learn from expert engineers in their work? How are manufacturers responding to the need for more information about responsible IP management? What recommendations are put forth by organizations like the Department of Homeland Security, the FCC and the NAB?"
Please folks, practice some safe networking. It is reassuring that I only see 18 Nautel devices on a basic search, knowing that there are several thousand connected to networks around the world and, of those, I was only able to log into 4 of them with the default information… however, even 18 devices are 18 more than I want to see. Incidentally, these customers are all being notified to let them know that they are not secure. My hope is that, by my next article, I will be able to report that I can find none of our equipment with an online search!
That's all for this issue – if you think of anything you would like for me to discuss, please feel free to contact me – if I use your suggestion, I will make sure to credit you as the source and put you down for some Nautel swag! Until next time, be safe and happy engineering!
Jeff
Jeff Welton, has worked with Nautel for 25+ years. He is currently the Nautel Sales Manager for U.S. Central Region but previously he spent 16.5 years as a Nautel Customer Service Technician.
Submissions for this Tips 'n Tricks column are encouraged and if published you'll receive a Nautel T-shirt. Submissions should be typed and emailed, with high resolution photos, to [email protected] using the subject line Tips 'n Tricks.