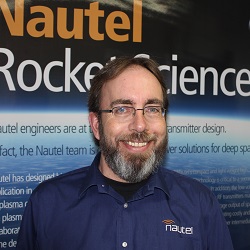 Many of us are getting ready to pack for NAB, so it was suggested that I write a "Tips 'n Tricks for Surviving NAB". Hopefully everybody has airfare and hotel reservations taken care of, so I'm not going to bother with those, but here are a few pointers that come to mind after braving the show for more than a couple of years…
Getting from the airport
The first thing that comes to mind is getting from the airport. If you're renting a car, it's easy – go to the rental car shuttle bus line and take a bus to the rental car center. Tip #1 comes in to play here – don't drive down the strip, but take either I-15 or Swenson Street, depending on where your hotel is. If your hotel is near the center or north end of the strip, Swenson to Flamingo, left on Flamingo and right on Paradise will allow you to make a left turn from Paradise onto whatever street gets you closest to your hotel. I-15 has exits that will get you within a block or two of most of the strip hotels and easy access to the off-strip hotels that are west of the strip. Either way, you'll avoid a lot of the traffic and commotion of the strip, especially if you're arriving in the evening.
If you're not renting a car, cabs are also easy to obtain (use the cab lines, they move pretty quickly). Most cabbies will ask if you want to take the highway or the strip… the strip will usually take longer, but if it's your first time in Vegas and you arrive after dark, the drive is definitely something to experience… especially with somebody else driving!
[EDIT – Bob Trimble of Seattle adds the following…
If you're not renting a car, there are direct to hotel shuttle buses by Showtime, SuperShuttle, Bell Trans and other companies right outside the terminal door. It's under $10.00, much less expensive than a cab would be (expect to pay $30.00-$40.00 for a cab, depending on where your hotel is located). Pay at the kiosk and get in line for the shuttle. You can also prepurchase your return trip at the same time, one less hassle to deal with when it's time to head home. Alternately, if you're going straight to the airport from the NAB show on your last day, buy a one-way ticket for the hotel shuttle, then use the free NAB express buses that go between the convention center and the airport on Wednesday and Thursday afternoons. Thanks for the tip, Bob!]
Getting to and from the convention center
For getting to and from the convention center, a lot of hotels are on the NAB shuttle bus route – this will be busy first thing in the morning and shortly after the show floor closes, so you may need to wait a bit. The monorail can also be your friend… you can buy passes for a set number of days which are good for unlimited travel. If you're staying on the strip and will mostly be traveling between various hotels on the strip and the convention center, this is an excellent way to get around. You can buy tickets online here or at ticket kiosks in the monorail stations. Hotels on the monorail line and a map of the stops can be seen below.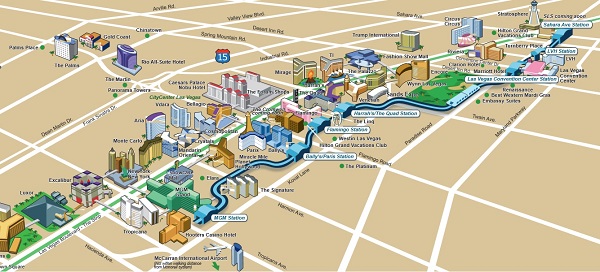 You can also see the above map here. Be warned that Las Vegas city blocks are BIG! There might be a bit of walking from one stop to the next.
Badge pick-up
Once you've arrived at the convention center, you'll need to pick up your badge and/or badge holder (many will have badges sent in advance with early registration, but you'll still need to get the badge holder). These can be obtained at kiosks at the entrances to the North, Central and South halls, as well as at the NAB registration area in the LVH hotel (there is a walkway between the hotel and the convention center, for convenience). Allow plenty of time as often the lines are long, especially at peak times.
Comfortable footwear
Now that we've covered transportation, the next thing – possibly the most important – is WEAR COMFORTABLE SHOES! NAB is not the time to be breaking in a new pair of shoes (been there, done that, suffered the blisters). You'll be on your feet for 12+ hours every day, sometimes in carpeted booths, sometimes pounding the pavement and at the end of the second day, everything from the hips down will hurt if you don't have good footwear. I'm partial to Dr. Scholl's gel insoles when I have to wear dress shoes, John Bisset from Telos swears by Florscheims, other folks have other preferences, but whatever your choice, realize you'll be on them for over half the day, every day you're attending the show, so make sure they're up to the task!
Stay hydrated
Right on the heels of that (see what I did there?) is water. Las Vegas is tied with three other cities (also in Nevada) for lowest average humidity in a city of 50,000+. That means you will dehydrate fast, even though the weather in April isn't incredibly hot – you'll want to take in a few quarts of water a day.
Expected temperatures
Accuweather's extended forecast puts the daytime highs in the 70's (Fahrenheit) and the nighttime lows in the low 50's – which brings me to the next point… bring a sweater or light jacket if you're going to be out after sunset, it can get noticeably cooler once the sun sets!


Note: in previous years temperatures have been significantly warmer, this year it looks like rain – plan accordingly!
Gambling
Another thing to consider – many hotels with casinos will offer specials or discounts to gamblers. So it's a good idea to think about getting the member's card/player's club card for your hotel's casino – this can frequently work out to significant savings at restaurants, so it's worth considering, whether you plan to do any gambling or not.
Restaurants
Speaking of restaurants, Vegas offers a lot of variety and price ranges, to suit just about every taste. I'm not going to get into a full review, but some of the more budget conscious ones I like are: the Peppermill, located just south of the Riviera Hotel (you'll see a few Nautel shirts in there most mornings for breakfast!); The Border Grill in Mandalay Bay (a bit pricier than some Mexican restaurants, but very good last time I was there); the Earl of Sandwich in Planet Hollywood (subs and sandwiches, budget prices, really good!). A bit north of the strip on Charleston Blvd, near I-15, Lola's Louisiana Kitchen offers some pretty good Cajun food and, of course, In'N'Out Burger (can't go to Vegas without stopping there!).
There are many, many others – Trip Advisor lists over 3,700 restaurants within Las Vegas city limits, so feel free to stop me and share your favorites, if you see me on the show floor!
The Annual NUG Event
If you are arriving Saturday and don't have plans for Sunday the 12th, we're doing our Nautel Users' Group ([email protected]) annual session in the Riviera Hotel that morning… it's a great chance to meet some of our folks, as well as a couple hundred other people, and we provide lunch! If you haven't signed up already, you can do so here. Please note that space is limited and we're currently 300+ people registered, so we can't promise that we'll be able to accommodate you if you just drop in – being per-registered would be a really good idea!
Barry's Annual Lunch Gathering
Sadly, the Barry's Annual Lunch Gathering that we've always visited at the Riviera Buffet for Tuesday lunch has moved – the Riviera Buffet is no more. This year, it will be a more informal gathering at the LVH Buffet… you can find more information here.
That's about it for this issue – back to tech stuff next time around. Until then, hope to see some of you in Vegas and stay safe out there!
Jeff
Jeff Welton, has worked with Nautel for 25+ years. He is currently the Nautel Sales Manager for U.S. Central Region but previously he spent 16.5 years as a Nautel Customer Service Technician.
Submissions for this Tips 'n Tricks column are encouraged and if published you'll receive a Nautel T-shirt. Submissions should be typed and emailed, with high resolution photos, to [email protected] using the subject line Tips 'n Tricks.