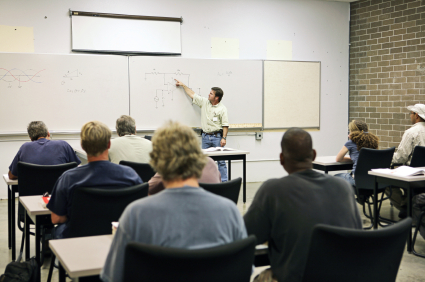 Nautel's SBE-certified broadcast training programs satisfy our customers' day-to-day knowledge requirements. Our comprehensive selection of training programs helps your staff develop valuable skill sets, reduce downtime, and make the most of your technology investment. Students participating in Nautel's Broadcast Transmitter or RF Basics training programs earn one SBE credit for each completed day of training.
Our training programs are made up of individual modules that can be 'mixed and matched' to meet your specific training needs. All Nautel training courses are offered at the Nautel Training Center or at your facility to minimize cost and disruption.
Nautel training courses combine classroom and hands-on laboratory work to ensure a balanced learning experience. Many classes also include diagnostic lab exercises.
Training Course Features
Nautel training courses feature:
Limited class sizes to ensure maximum student participation and access to equipment
Emphasis on need-to-know, day-to-day knowledge
Labs that focus on the tasks most often performed at the transmitter site
Available Training Courses
We offer the following training courses at the Nautel Training Center:
Transmitter-Specific Training (see overview below)
Transmitter-specific training
Available for GV, NV, NVLT, NX, VS, and XR Series, the training covers the following topics:
Transmitter Overview
Site Preparation
Transmitter Installation
Theory of Operation
Operating Instructions
Testing & Adjustment
System-Level Troubleshooting
Component-Level Troubleshooting
Lightning Protection & Site Safety
To book a Nautel training course, please complete the

Training Request Form

.
FREE Post-NAB Training
After the NAB show we offer a FREE three-day training course covering a range of topics including site preparation, Nautel equipment and software, digital radio, and more. Book early! Learn more here.
var ewt_pagename = 'Training';