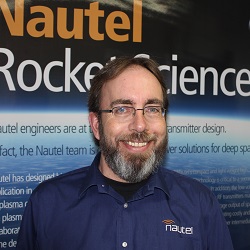 While I was at the NAB Radio Show in September, someone asked me for more information on the carbon balls I frequently recommend for 'roll your own' ball gaps, and suggested I write an article on where to get them, how to make them, etc. Unfortunately, I didn't jot down their name, so if it was you let me know and I'll credit you in the next issue.
I also apologize for the diagrams in this article; I'm on the road at the Indiana Broadcasters Association Engineering Conference and did them with Word's drawing tools!
The carbon balls I recommend in my presentations are made by Ross Engineering, Campbell, CA. They make carbon balls in various sizes, but for our purposes, something in the 1" diameter size, tapped for a ¼-28 bolt is ideal. See the section on their website regarding "Toroids, Spheres and Corona Nuts" for more information. You can order them direct from Ross (P/N 321021). If you desire other sizes, you can get them; just adjust the sizes of bolts and nuts below accordingly.
Carbon balls make great spark gaps, because they don't suffer from metal migration during arcs, like brass or steel, so they're easy to set for a known arc point and it won't change, nor will they need to be filed down or turned to get rid of the pits and peaks that metal balls develop over time.
Rolling your own ball gap is relatively simple – it requires two carbon balls, two ¼-28 bolts, about 2" long, four nuts to fit the bolts, about 8 inches of half inch wide by 1/8" thick steel (or two right angle steel brackets, with each leg about 2" long), an insulator (about ¾" diameter and 2" long is fine, threaded at each end), a conductive pillar to match the insulator, and bolts to secure the brackets to the insulator and pillar, then to secure the insulator and pillar to whatever you're mounting to.
First, cut the steel into two four inch lengths and bend each length to make two right angle pieces (this step isn't needed if you've got premade pieces). Drill 5/16" holes near one end of each piece to allow the ¼" bolts to pass through freely. About 1" from the other end of each piece, drill the appropriate hole for securing to the pillar and insulator. Also, on the bracket that will attach to the insulator, you may wish to drill an additional hole at the very end to attach the connection to your RF conductor. See figure 1.
Next, put a nut on each bolt and run it up to the head of the bolt. Put the brackets on the bolts and put another nut to secure the bracket – these will be your adjusters. Then thread a carbon ball onto each bolt. See figure 2.
On the other end of the brackets, bolt the pillar to one and the ceramic insulator to the other, and bolt these to your mounting surface. If you want to make something in the shop that can be taken to the site, use a piece of U-channel, about eight inches long – mount the brackets about six inches apart and drill holes at each end of the U-channel to allow it to be screwed or bolted in its final location. See figure 3.
That's it! The insulated end of the assembly becomes your hot conductor connection; the other end is connected to your ground system (preferably with a strap to reference ground). Adjustment is done by loosening the nuts securing the balls to the brackets and securing them so that the balls are spaced as desired.
Thanks again to whoever suggested this – I've got a couple of guesses based on the notes surrounding this topic in my notepad – please give me a shout so I can give credit where it's due. Until next time, play safe and have fun!
One final note, Ross Engineering also makes a portable grounding stick. For those who work on stuff with big volts in it, if you don't have one of these in your collection of site tools, you sure should!!
Jeff
Jeff Welton, has worked with Nautel for 25+ years. He is currently the Nautel Sales Manager for U.S. Central Region but previously he spent 16.5 years as a Nautel Customer Service Technician.
Submissions for this Tips 'n Tricks column are encouraged and if published you'll receive a Nautel T-shirt. Submissions should be typed and emailed, with high resolution photos, to [email protected] using the subject line Tips 'n Tricks.